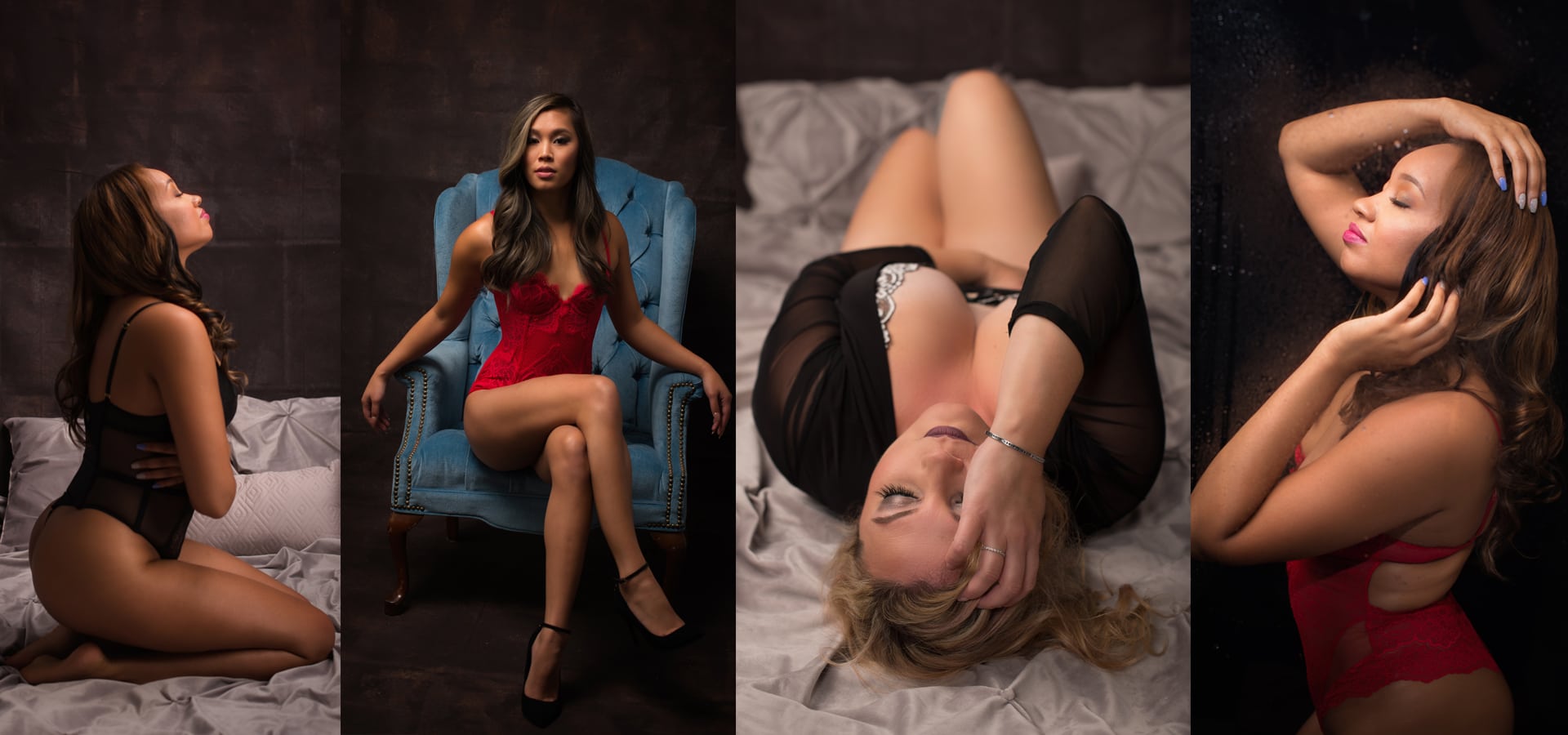 LET'S TALK ABOUT PAYMENT OPTIONS
This guide will walk you through the options available for purchasing your images including Pre-Purchasing your Collection and Pre-Session Payment Plans
OPTION 1: PRE-SESSION PAYMENT PLANS
This can be monthly or bi-weekly, depending on what works best for you. Many clients choose to do this over the 3-9 months leading up to their shoot so that their Collection is paid in full before their shoot arrives! To pre-purchase you may choose to pay in full or an in-studio payment plan. Pre-purchases must be completed no less than 7 days prior to the session to be eligible for the Bonuses.
If you choose to pre-purchase one of our 4 Collections, we will include your choice of the following bonuses in your boudoir experience at no additional cost to you.
Platinum Collection: Choose 3 Premium/Standard and 1 Standard
Diamond Collection: Choose 3 Premium or Standard
Gold Collection: Choose 2 Premium and 1 Standard
Rose Collection: Choose 1 Premium and 1 Standard
*May not choose multiples of the same bonus*
2 Free Professional or Casual Headshots ($350 Value)
20-30 minutes Beauty Portrait add-on ($790)-bring your favorite cocktail dress and I will create beautiful portraits for you that you can share with your loved ones
Angel Wings ($350 Value)
Premium Shower Set with wet t-shirt option ($350 Value
Luxurious tulle black robe ($300 Value)
Triplex _ 3 image album ($750 value) 8x10 in
Diamond Album Cover upgrade  ($250 upgrade)
Matching Couture Album Box ($250)
Additional Outfit Ad-On ( $175 value)
Custom Mobile App of your purchased images ($250 value)
4×6 Diamond Block ($200 value)
5×7 Metal Print with Easel Back ($200 value)
Custom Playing Cards with your pictures ($150 value)
50% off next session fee within 12 months($250 perceived value on $500 session fee)
Lunch at Pressed Cafe
12 months calendar with your chosen portraits ($200)
Set of 3 accordion books (3x3 in)
If you choose to pre-purchase one of our three Collections you will get at least one free bonus. The number of bonuses depends on the collection you choose. Pre-payments require a 10 min set up call.
Can I get a payment plan after the Image Reveal & Ordering Appointment?   We do not offer (in studio) payment plans after the Boudoir Session.  In Studio Payment plans are only available between the date of booking and the session date.
Tell me more about Pre-Purchasing or a Pre-Session Payment Plan? For clients who wish to discuss setting up a payment plan, we offer a payment plan phone call. Basically, how it works, is we either select a Collection or work within your budget and create a payment plan from that monetary amount. If there are 12 weeks before your session, for instance, you could choose to have your payment plan be automatically drafted weekly, bi-weekly, or monthly for a set amount so that when your session date arrives, your order is paid in full. Payment plans are offered on amounts of $1600 or higher only. Pre-Session Payment Plans are not refundable if you cancel your session or if you choose to spend less than the amount you financed.
You can also choose to simply Pre-Purchase a Collection prior to your session to unlock the special bonuses. Pre-purchases can be done via Credit Card.
What are type of payment do you accept? We accept cash, credit/debit. We do NOT accept checks.
Can I choose what to order at a later date? No, we only do image reveals and ordering session once. There is no option to have an online gallery or a second Ordering Appointment. Images not purchased are deleted 30 days after the session.
Can I make additional purchases at a later date? As discussed in the Session Guide, we do not archive your images after your ordering appointment. Therefore, you will not be able to return and order additional images. However, if you purchase the Digital Collection with the high-resolution files, you can send them to us for printing or you may print them through a third-party.
What happens to the images I do not purchase? We delete them after your Image Reveal & Ordering Appointment.
All sales are final. Once your Image Reveal & Ordering Appointment are complete, we will have you sign our Final Sale agreement, which states that we cannot allow for changes to your order. This is studio policy for all clients and no exceptions will be made. You may not change, alter, add, reduce, or request any other types of changes after the Ordering Appointment.