What Is Boudoir Photography?
Boudoir photography is intimate, sensual and artistic. It's a way to help women step out of their comfort zone and celebrate their own unique beauty. Boudoir can be a form of self-care—an opportunity to take time out of your busy schedule to remind yourself of just how gorgeous and vivacious you truly are.
While boudoir photography traditionally involves partial or full nudity, it doesn't have to! The goal of boudoir is to make women feel comfortable and fully themselves, so as your boudoir photographer, I always strive to meet you where you are and help you shine your brightest.
Who Books a Boudoir Photography Session?
Boudoir is for everyone. Seriously. Maybe you want to celebrate a milestone in your life, like a new decade, an anniversary or the birth of a child. Maybe you want to mark your weight loss journey. Or maybe you just want to feel stunning.
No matter your reasons, you can book a boudoir session. You don't have to be a model or have a partner to give your photos. Boudoir is for YOU, to empower you and help you find your sexiest, most amazing self.
My Boudoir Photography Style
Every boudoir session and woman is different, but my style focuses primarily on intimacy and elegance. My goal is to help you feel comfortable in your own skin, celebrate your beauty and remind you of your power. Whether you dress up in heels and lingerie or wear your favorite oversized sweater, I want to capture the real you and provide you with images you can look back and love for years to come.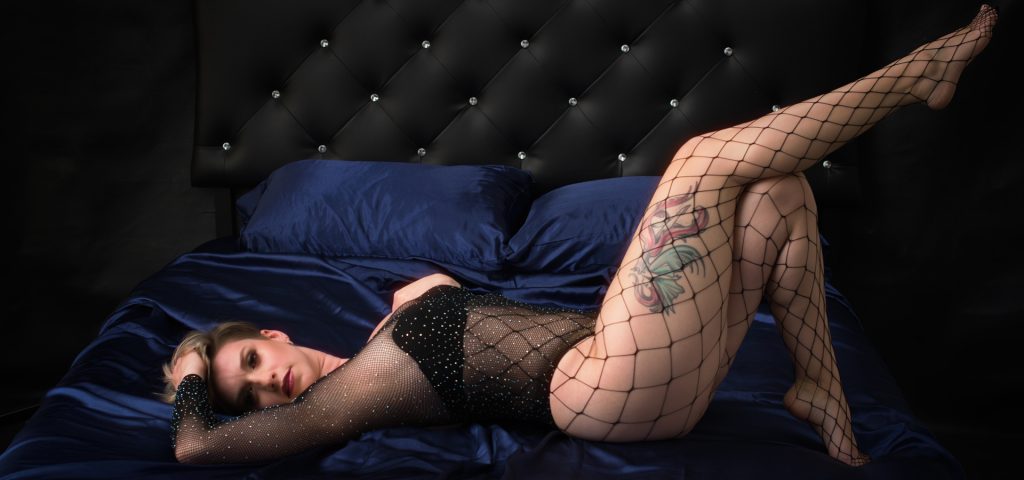 Phone Call Consultation
We start your experience with a phone consultation. If you are anything like me, you will understand that getting photographed and undressed in front of a stranger does not come easy. If I only exchanged a few emails with a photographer I wouldn't feel the connection. Talking to you and learning about how you want to be photographed and what motivates you, your style is a crucial thing to decide if you are the right fit.
Wardrobe Consultation
Once the date is set we schedule a zoom call to discuss wardrobe choices. It saves you plenty of stress to know what to bring and what not to pack. I have a large collection of lingerie in my studio and you are more than welcome to use any of my pieces.
Hair & Makeup
On the photoshoot day, we start the experience with transformation with our professional hair and make-up artist. You will discuss your vision and ideas regarding your final look, you may also send me images. 
Professional Posing
Professional posing it's a part of the experience too. If you're not a professional model you probably think that you will never look like the woman in my portfolio. Let me reassure you that I will walk you through the entire process and show you every single pose and then verbally guide you on what to do. I will also guide your facial expressions. 
Viewing & Ordering Appointment
Few days after the session reschedule a reveal appointment where are you will see your pictures for the first time. This is the time where you will decide on your Collection and the Wall Art.
Post Photo Session Process
I will design your album in wall art and you will be able to see it digitally beforehand. Once your art is delivered to my studio I will contact you and arrange the pickup time. One important thing to mention is that I do offer pre-payment plans let's come with amazing bonuses available only for the payment plans.
Styling Your Boudoir Shoot
Even if you've never done a boudoir photography session before, it's important to take time to figure out what you want from your images. Pinterest is a great place to start, and I always recommend my clients spend some time putting together a mood board prior to their session.
Look up boudoir photos, as well as outfits, poses and color schemes that you like. Having all this information on hand can help me in the consultation process as I determine how best to plan out your boudoir session and create photos that you will love.
During our first consultation, we will talk about your style and what to expect from the experience. The wardrobe consultation is when we will plan out what to wear for your session, what to bring and what to avoid leading up to the big day. I find going over this information helps my clients feel more comfortable and prepared.
A boudoir session is a great excuse to go shopping, but if you're on a budget,  you are more than welcome to use pieces from my wardrobe closet. I have a large collection of lingerie in my studio and pieces for any personality and style!
"I Don't Look LIke That..."
One of the main reasons women give me for not doing boudoir is "I don't look like a model" or "I'm not as pretty as the women in your photos." This is 100% not true.
The women you see in the photos on my website are not models. They're everyday women just like you. They have families, jobs and obligations, and they decided to take time out of their schedule to pamper themselves and celebrate their beauty. And almost every single woman I've photographed felt nervous before their boudoir session and thought the exact same thing that you're thinking now: "I don't look like that."
It can be so easy to focus on your perceived flaws that sometimes you just need another pair of eyes to show you how beautiful you truly are. That's what boudoir photography can do for you.
Behind the Scenes with Adriana
I am a  Boston Boudoir Photographer for a modern woman.
I know what beautiful looks like.
I can see yours!
I know how to bring it forward, and how to capture it with my camera.
I also know what it's like to be a woman who struggles to see her own beauty. That's why I've made it my mission to create the most beautiful portraits you have ever had.
I want to show you how beautiful you are, to help you reconnect with the woman you see in your portraits, and be awed by her again.
"I believe that the female form is art – regardless of the shape, it takes. I believe that it is my mission to build confidence one woman at a time. I believe that you are ENOUGH and you are AMAZING exactly as you are right now…not 15 lbs from now, not 20 years ago…now. I believe that your looks (however stunning they may be) are the least interesting thing about you. I believe wholeheartedly that I was put on this planet to create confident and beautiful imagery For women, not Of women for others…and I believe you found me for a reason." – Kara Marie
Have Questions or Want to Chat?